Read more on the institution's website
Ireland's Global University
Over 160 Years of Education
UCD is one of Europe's leading research-intensive universities; an environment where undergraduate education, masters and PhD training, research, innovation and community engagement form a dynamic spectrum of activity.
Since its foundation, the University has made a unique contribution to the creation of modern Ireland, based on successful engagement with Irish society on every level and across every sphere of activity. The international standing of UCD has grown in recent years; it is currently ranked within the top 1% of higher education institutions worldwide. UCD is also Ireland's most globally engaged university with over 30,000 students drawn from 136 countries, including almost 4,000 students based at locations outside of Ireland. The University's main Dublin campus occupies an extensive parkland estate of 133 hectares and offers world-leading facilities including the UCD O'Brien Centre for Science, UCD Sutherland School of Law, UCD Lochlan Quinn School of Business, UCD Moore Centre for Business, and the UCD Student Centre.
As Ireland's largest university, with its great strength and diversity of disciplines, UCD embraces its role to contribute to the flourishing of Ireland through the study of people, society, business, economy, culture, languages and the creative arts, as well as through research and innovation. The University's Strategy 2020-2024 Rising to the Future outlines the objectives and major strategic initiatives set in place in order to accomplish UCD's vision for this era.
Tackling Global Challenges: Research and Innovation at UCD
Research and innovation are essential drivers of a dynamic economy, an informed society and a vibrant culture. The spectrum of research and innovation at UCD encompasses individual scholars, research groups, start-up companies and large-scale collaborations with industry and other partners. Research is conducted within each of the University's extensive range of disciplines, and in multidisciplinary research programmes addressing challenges of global scale.
In 2018/19 UCD researchers secured €153 million in research grants from national and international funding agencies, companies and foundations. Since 2009/10 UCD researchers have secured over €1 billion in such grants. Their research underpins national research and technology institutes and centres, including the SFI funded Insight Centre for Data Analytics, Irish Centre for Research in Applied Geosciences (iCRAG), Bioeconomy Research Centre (BEACON) and I-Form Advanced Manufacturing Research Centre.
UCD has had nationally-leading success in many of the most prestigious European awards, including European Research Council and Marie Sklodowska-Curie schemes.
Over the last decade, UCD researchers have increased their annual number of papers in the international literature by 40% and have authored more than 31,000 papers in total. 54% of the papers were co-authored with researchers from more than 130 countries. These papers are cited by other researchers at a rate that is 71% above the world average.
As Ireland's leader in innovation, technology transfer and commercialisation, UCD's commitment to innovation and entrepreneurship recognises the importance of active participation and collaboration to exploit leading-edge research and development outputs. Supports for innovation include NovaUCD – the Centre for New Ventures and Entrepreneurs and NexusUCD – the Industry Partnership Centre. Since 2003 UCD has provided support to over 360 companies and early-stage ventures through the services and supports provided across the university, through NovaUCD, and through business support programmes run and managed by NovaUCD.
Defining Educational Excellence: Teaching and Learning at UCD
UCD is Ireland's University of first choice, leading in first-preference applications in Ireland year after year. The first-year retention rate is 94%. For the last three years, UCD has ranked number one in Ireland for Graduate Employability (QS Graduate Employability Rankings 2018, 2019,2020).
UCD is globally recognised for its excellence in teaching and learning – 14 subjects are ranked in the top 100 in the world (QS World University Ranking by Subject 2019). This quality of teaching is complemented by a high standard of support. Every incoming first year is assigned a peer mentor and there are student advisers for every programme.
UCD is ranked number one university in Ireland in the US News & World Report's Best Global University Rankings and is Sunday Times University of the Year 2020.
UCD is also Ireland's leader in graduate education with over 9,500 graduate students; almost 20% of whom are graduate research students. 1,611 PhD students benefit from a structured PhD programme as well as the research-led education culture at UCD.
The UCD Horizons scheme of modern, modularised education based on learning outcomes sees 50% of students take modules outside their subject areas.
Engaging Globally
UCD's world extends beyond its campus, city and borders. UCD students and a worldwide network of 279,000 alumni benefit from a UCD education that enables them to thrive and contribute to an increasingly global community. As the number one 'university of destination' for international students coming to Ireland, UCD's 8,428 international students make up 29% of the student body, while international academics make up 30% of UCD's faculty.
With 400 partner universities for student exchange, UCD offers extensive global study opportunities and is engaged in partnerships including such networks as Universitas 21, the Worldwide Universities Network (WUN), UNICA and the EUA.
UCD expertise is recognised worldwide, with international accreditations for UCD degrees from the world's leading professional organisations in Veterinary Medicine, Architecture, Landscape Architecture, Regional and Urban Planning, and Engineering. The UCD Michael Smurfit Graduate Business School is one of less than 60 schools worldwide to hold triple accreditation from the US, Europe and the UK accrediting bodies, and the MSc in International Management there is now regarded as the seventh in the world, according to the Financial Times Global Master in Management Ranking 2019.
UCD faculty engage in international research collaborations, sharing and contributing to a global bank of knowledge. To further expand this global engagement, UCD has developed a network of UCD Global Centres in North America, UAE, India, China and Malaysia; each of which provides a hub of research and education connections for students, faculty, alumni and partners.
UCD by Numbers
1 Ranked within top 1% of higher education institutions worldwide
29 Percentage of international students
30 Percentage of international staff
32 Percentage of undergraduate students from underrepresented cohorts
64 Percentage of non-Exchequer funding
133 Hectares making up the woodland campus
136 Number of nationalities within the student body
520 Million euro annual turnover
574 Million euro won in externally funded research in the last 5 years
1,611 Number of PhD students
1,727 Academic staff (Full-Time Equivalents)
1,920 Support staff (Full-Time Equivalents)
1854 Year founded by John Henry Newman
3,984 Number of international students in overseas operations
8,428 Number of international students on the main campus
9,645 Number of graduate students
9,763 Number of awards conferred each year
33,285 Total number of students (including overseas operations)
167,177 Square meters of science, engineering and innovation-related facilities
279,000 Number of alumni across 169 countries
1,900,000 Approximate number of annual visits to library facilities
Note:
Student & staff numbers relate to the academic year 2018/19.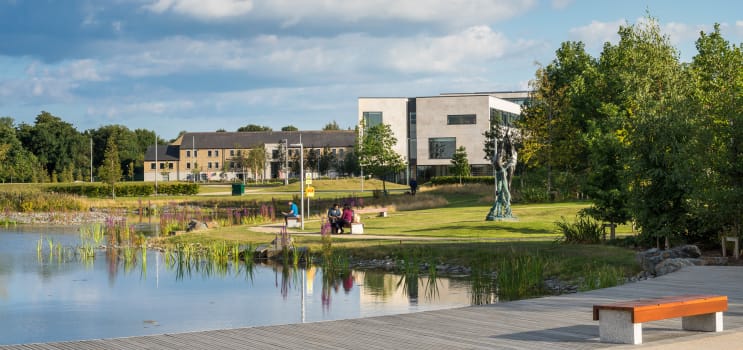 Over 160 years of heritage
Originally known as the Catholic University of Ireland and subsequently as the Royal University, the university became UCD in 1908 and a constituent college of the National University of Ireland (NUI). In 1997, UCD became an autonomous university within the loose federal structure of the NUI and UCD students are awarded degrees of the National University of Ireland.
UCD has been a major contributor to the making of modern Ireland. Many UCD students and staff participated in the struggle for Irish independence and the university has produced numerous Irish Presidents and Taoisigh (Prime Ministers) in addition to generations of Irish business, professional, cultural and sporting leaders. Among UCD's well-known graduates are authors (Maeve Binchy, Emma Donoghue, Roddy Doyle, Flann O'Brien, Marina Carr, Colm Tóibín), actors (Gabriel Byrne, Brendan Gleeson, Amy Huberman), directors (Neil Jordan, Jim Sheridan) and sports stars such as Irish rugby captain Brian O'Driscoll, sprint hurdles athlete Derval O'Rourke, and former Manchester United and Ireland captain Kevin Moran. Perhaps the best known of all its graduates is the writer James Joyce, who completed his Bachelor of Arts at the university in 1902.
UCD Strategy 2020-2024
Through our research, our education and the many ways in which we interact with the world around us, universities have a vital role to play in these disruptive times. At UCD, we have both the opportunity and the obligation to ensure that, in everything we do and say, we are contributing to the flourishing of Ireland and the world.
Building on the traditions of the past, we are a university of the future, connected and connecting, engaged and engaging, committed to a sustainable future built on a healthy biosphere.
We will contribute to this sustainable future through our graduates, through our research and through the way we conduct our business. As transactional activities will be increasingly handled electronically, human activity will revolve more and more around creativity, strategic and critical thinking, problem solving and communication.
To respond to these key trends innovatively and proactively, we will adopt four UCD strategic themes which will permeate everything that we do as an institution, guiding the development of our students, our research and our University community.
We will ensure that every member of our community is enabled to achieve their full potential, and we will embrace the principles of equality, diversity and inclusion so that no one is excluded.
Over the last five years, UCD has made remarkable progress towards the objectives of the UCD Strategy 2015-2020. We have achieved improvements in student satisfaction; research quality, quantity and impact; student-faculty ratio and gender equality. Notable achievements have been made in the area of engagement, a central theme of that strategy. We have seen extraordinary increases in alumni engagement, industry engagement and global engagement, and a significant increase in philanthropic support. These achievements, made against a backdrop of reduced government funding for Irish universities, were enabled by our building of non-exchequer income.
During the period of the last strategy, we moved to a five-year planning horizon, with our projections of student and faculty numbers extended to ten years, informing a strategic campus development plan. We adopted a financial strategy which will see our student-faculty ratio reduced and our infrastructure needs addressed over the period of this strategy. Hence several enablers of this strategy are already well developed. A number of objectives of the last strategy have been substantially achieved, while others, with significant progress already made, remain current and have been retained in this updated strategy.
The progress of UCD over the last five years is a credit to all the members of our University community and to our partners and supporters. We look forward to your continued support of UCD as we embark on this next chapter in the history of a truly extraordinary University.
Core statements
Our mission is to contribute to the flourishing of Dublin, Ireland, Europe and the world through the excellence and impact of our research and scholarship, the quality of our graduates and our national and global engagement; providing a supportive community in which every member of the University is enabled to achieve their full potential.
Our mottos are
Ad astra 'to the stars': Reflecting our pursuit of achievement and success.
Cothrom na féinne 'fair play': Reflecting our commitment to justice and equality.
Our vision for 2024 is that:
As Ireland's Global University, UCD will rise to the global challenges of the future by pursuing four strategic themes: Creating a Sustainable Global Society; Transforming through Digital Technology; Building a Healthy World; and Empowering Humanity. These strategic themes will shape our research, our teaching and learning and the way we behave and function as a community and as an institution.
We will be truly global in our comprehensive range of disciplines, in the reach and impact of our research and innovation, in our holistic educational experience, in the diversity of our University community, and in our engagement with all sectors of society and with all regions of the world. We will be distinctive in our welcoming and inclusive community, our commitment to innovation and justice, and our agility. We will bring the best of the world to Ireland, and the best of Ireland, including its distinct cultures, to the world.
UCD will continue to be an excellent research-intensive university with global standing and impact where a preeminent, diverse and inclusive scholarly community of students, faculty and staff work in partnership to contribute to the development of Ireland and the world.
Our graduates will be imbued with a knowledge of the past, be capable of critically interrogating the present and of imagining and realising the future. Through a holistic student-focused and research-led educational experience which has both breadth and depth, they will be equipped with the knowledge, skills, experience and attitudes they need to flourish in present and future Irish and global societies.
Our Core Objectives
Core Objectives 1: Increase the quality, quantity and impact of our research, scholarship and innovation.
Core Objectives 2: Provide an inclusive educational experience that defines international best practice and prepares our graduates to thrive in present and future societies.
Core Objectives 3: Continue to build our engagement locally, nationally and internationally.
Core Objectives 4: Attract, retain and develop an excellent and diverse cohort of students, faculty and staff.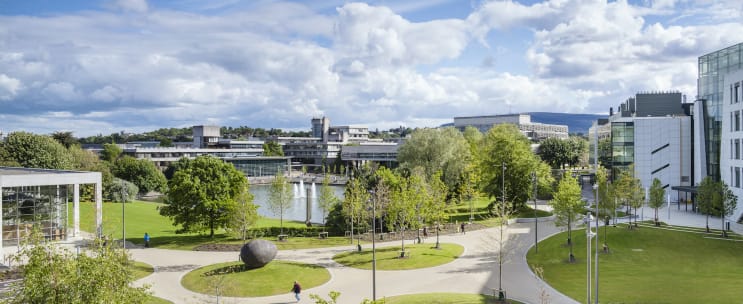 Locations
Dublin
Address
University College Dublin,
Belfield
Dublin
,
County Dublin
,
Ireland