Read more on the institution's website
This is the difference!
The EIT Digital Master School is an exclusive joint initiative by the leading technical universities and business schools in Europe with additional mentoring and partnering from excellent European research organisations and leading business partners.
As a student in this master's education, you will be prepared to face the challenges of your future career as well as the global challenges of the society.
You will gain state of the art technical knowledge and achieve the ability needed to drive your innovations to the market. The education focuses strongly on the acquisition of transferable skills, especially in innovation and entrepreneurship
Pedagogical renewal
The EIT Digital Master's Education combines a strong theoretical foundation with creative and analytical engineering problems in which the students apply their theoretical knowledge. Students and teachers work as members of a scientific community.
Being an EIT Digital student means that you will be immersed in the research environment of your university during your study period. This will give you an excellent starting point if you are aiming at doctoral studies. The integration of innovation skills in education and involvement of industrial partners in the education will also prepare you for key industrial roles and responsibilities.
The master's education enhances the professional options for the students. The curricula tracks are set up to ensure multiple career paths and create awareness of job types and functions in the relevant industry, research domain or education.
The organisation
The EIT Digital Master School is part of EIT Digital.
EIT Digital is a leading European digital innovation and entrepreneurial education organisation driving Europe's digital transformation.
EIT Digital delivers breakthrough digital innovations to the market and breeds entrepreneurial talent for economic growth and improved quality of life in Europe. It does this by mobilising a pan-European ecosystem of over 156 top European corporations, SMEs, start-ups, universities and research institutes.
As a Knowledge and Innovation Community of the European Institute of Innovation and Technology, EIT Digital is focused on entrepreneurship and is at the forefront of integrating education, research and business by bringing together students, researchers, engineers, business developers and entrepreneurs. This is done in our pan-European network of co-location centres in Berlin, Eindhoven, Helsinki, London, Paris, Stockholm, Trento, as well as in Budapest and Madrid. We also have a hub in Silicon Valley.
EIT Digital invests in strategic areas to accelerate the market uptake of research-based digital technologies focusing on Europe's strategic, societal challenges: Digital Industry, Digital Cities, Digital Wellbeing and Digital Infrastructure.
EIT Digital breeds T-shaped entrepreneurial digital talent focused on innovation through a blended Education Strategy that includes a Master School, Doctoral School and Professional School.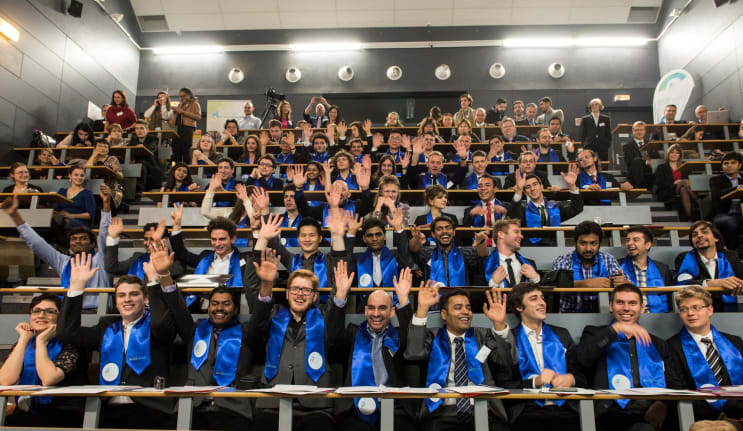 Why EIT Digital Master School?
Fast track to your career: get in touch with industry
Double degree Master's programme with major in ICT and minor in E&I
International experience study two years in 2 different European cities
A Strong Partner Network
The master's education provides you with the base for your future prosperous career through the contacts in our network of experts in research and industry. You will meet top specialists in your field and you will be able to network with them and exchange ideas.
Internships
Within the program, there is a mandatory internship period. The students are expected to search for interesting and developing positions, EIT Digital will provide support through its business partners from the industry. An academic supervisor will be assigned to the students by EIT Digital for students who want to combine their internship with their master thesis. The internships allow you to actively take part in projects and project meetings and ensure that you get the opportunity to build a corporate network and knowledge.
Mentoring Programme
You will be assigned a personal mentor in a management position at an EIT Digital business partner and will be provided regular interviews with the mentor and opportunities to follow the mentor's daily work. You get to see the life of an entrepreneur and learn how to apply your knowledge.
Strong Technical Entrepreneurial Education
The combination of a top technical education and innovation and entrepreneurship will give you the skills you need to build an outstanding career. You will be successful right from the start.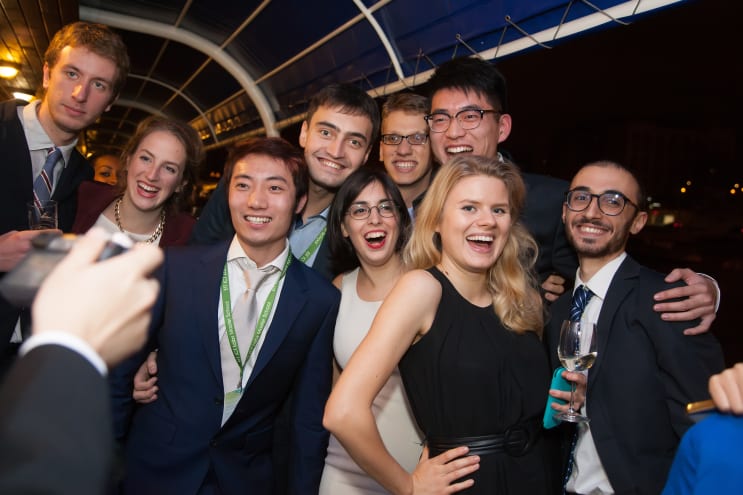 Value Community
Be a part of our community, we encourage you to meet serial entrepreneurs, our business partners, top researchers and other students and teachers from around Europe and the World at our educations and events. Travel to other fascinating locations to learn more about your field and build a network that will start your career, our value community is a community for life that lasts beyond your education through our Alumni Foundation.
Locations
Bologna
Address
Bologna
,
Emilia-Romagna
,
Italy
Enschede
Address
Enschede
,
Overijssel
,
Netherlands
Budapest
EIT Digital Budapest Co-Location Centre
Address
EIT Digital Budapest
10/a Bogdánfy Street, H-1117
Budapest
,
Hungary
Paris
Address
Paris
,
Île-de-France
,
France
London
Address
London
,
England
,
United Kingdom
Trento
Address
Trento
,
Trentino-South Tyrol
,
Italy
Eindhoven
Address
Eindhoven
,
North Brabant
,
Netherlands
Madrid
Address
Madrid
,
Community of Madrid
,
Spain
Stockholm
Address
Stockholm
,
Stockholm County
,
Sweden
Turku
Address
University of Turku, Finland
20500 Turku, Finland
Turku
,
Finland
Tallinn
Address
Tallinn University of Technology, Estonia
Ehitajate tee 5, 12616 Tallinn, Estonia
Tallinn
,
Harju County
,
Estonia
Nice
Address
Université Côte d'Azur (UCA)
28 Avenue Valrose, 06100 Nice, France
06100
Nice
,
Provence-Alpes-Côte d'Azur
,
France
Milan
Address
Piazza Leonardo da Vinci, 32, 20133 Milano MI, Italy
20133
Milan
,
Lombardy
,
Italy