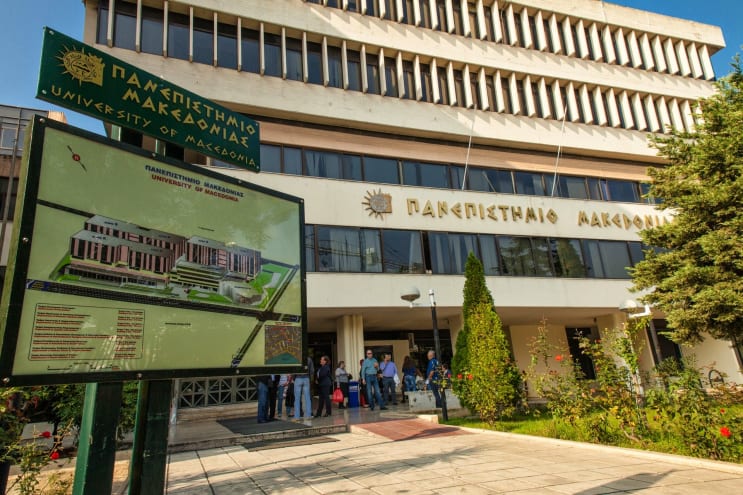 The University of Macedonia. Destination: excellence
In its sixth decade of operation, the University of Macedonia, the continuity of the historical Graduate School of Industrial Studies of Thessaloniki, is a modern state Higher Education institution, renowned for the ambience of quality, freedom, democracy, meritocracy and individual development it provides to all its members: students, Academic and Research Staff, and university employees.
Our mission has long been to contribute to society, to the socio-economic development of our country through the subjects we offer in our four Schools, the research conducted and the advancement and dissemination of knowledge.
Thousands of University of Macedonia graduates pursue successful careers in Greece and abroad. On our part, given the current adverse economic situation affecting the Greek youth, plagued by unemployment, we at the University, do our best to support our graduates and our students to enhance their prospects of entry in the labour market by means of our Careers and Internship Offices and through updating the programs of study in all our departments.
The positive evaluation results received by the overwhelming majority of the Departments of the University of Macedonia, its smooth operation throughout the entire academic year, the prudent economic management of its funds and the knowledgeable, ambitious, and talented human resources, guarantee the quality of the University today and vouch for our future development into a dynamically growing medium-sized university not only in Greece but also in the surrounding regions.
Our University community sets Excellence as its non-negotiable objective. Our daily endeavors to respond to the demands of University Evaluation processes are by far the best means of achieving our goals.
I truly believe that universities as institutions, in general, and the University of Macedonia, in particular, can assume a leading role in this turning point for our country. Development is directly associated with research and the advancement of knowledge. Only through the close collaboration of government agencies, the private sector, Universities, and Research Centres can we succeed.
My aim during my term of office as Rector is to instill the attitude of excellence in all members of the University: students, Academic and Research Staff, and university employees in order to achieve the maximum possible cooperation with public and private entities. In this way the University of Macedonia will be open to all and will fulfill on a daily basis its social mission as a state university, making us all proud.
The Rector of the University of Macedonia
Achilleas Zapranis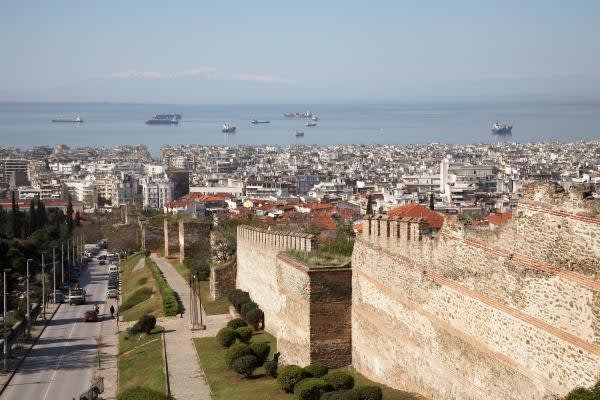 Location
The University of Macedonia is located in Thessaloniki. It is housed in a group of buildings with a total area of approximately 40.000 square meters, consisting of amphitheaters, teaching and seminar rooms, offices and the areas of the administration sections, a restaurant, which operates during the whole academic year, a gymnasium and a book-store; also a child-care station will soon be operating. There are also two guestrooms where 4-8 persons (mostly official visitors) can be accommodated. The University has recently added a main auditorium that will become one of the most contemporary Conference Centers with International standards and will also host important cultural events of the city.
Facilities and Equipment
Students are provided with substantial support by the Library and Information Service (L.I.S.), the Career Office, and by the Computer and Network Operations Center. The university's sports, cultural and political activities are open to all students.
International Environment
The University of Macedonia welcomes students from all over the world. We know that the program's quality is enriched by the variety of our international students' cultural and educational experiences. Our incoming students, therefore, receive all manner of support from the Graduate Secretary and are warmly welcomed by independent student networks that help them to become quickly involved in local student life.
Alumni and Student Testimonials

Dr. George Martinidis (PhD), Greece
"Apart from being an engaging and enlightening experience and an opportunity to meet very interesting people, the UoM MA in Politics and Economics of Contemporary E&SE Europe was essential in allowing me to complete a PhD on innovation and regional development, as well as in significantly enhancing my career in research."

Rod Jetton, U.S.A.
about.me/rodjetton
"My time at the University of Macedonia was extremely impactful in helping me reach my career objectives. Focusing on all the countries in southeastern Europe was invaluable and I found the emphasis on economics refreshingly useful. The professors were demanding, which required hard work and focus to succeed, but they were the best group of instructors I have ever studied under. I believe each of them not only took a personal interest in helping me learn the material, but they also offered their counsel, advice, and support on all my endeavors since graduation. The UOM's interest in helping me succeed, as well as the quality of their instruction, far exceeded my expectations as an American studying abroad. I highly recommend this program to anyone desiring to gain a better understanding of how politics and economics impact government in southeastern Europe and the European Union as a whole."
Locations
Thessaloniki
Address
156 Egnatia Street
http://mabsos.uom.gr/
540 06
Thessaloniki
,
Thessaloniki
,
Greece