Select IRIS Sup 'is the guarantee of a training adapted to the world of work, for those who wish to work or professional work in an international context.
IRIS Sup 'school IRIS
Created by IRIS in 2002, IRIS Sup 'is a private technical higher education institution registered at the Paris Rectorat which aims to train students and professionals in various trades in an international context. It delivers Level I securities registered in the national directory of professional certifications (RNCP) by order of 23 February 2017, published in the Official Gazette of March 3, 2017.
geopolitics and professional practice
IRIS Sup formations' offer students:
the knowledge necessary to the understanding of international issues and develop their capacity for analysis and proposals to assist in the making in organizations;
professional tools, with a large share given to learning through simulation and commissioning work situation, from the 1st year;
to mature and develop their career plans within dedicated workshops.
Rich diversity of promotions
At IRIS Sup ', not clones. Student or professional, French or foreign, each comes with its journey, experience, objectives, and will be enriched throughout the year, as the lessons of diversity of origin of students and stakeholders.
IRIS Sup 'every year about 20% of students representing thirty nationalities.
Fluency in English is required in any international activity, some courses are taught in English.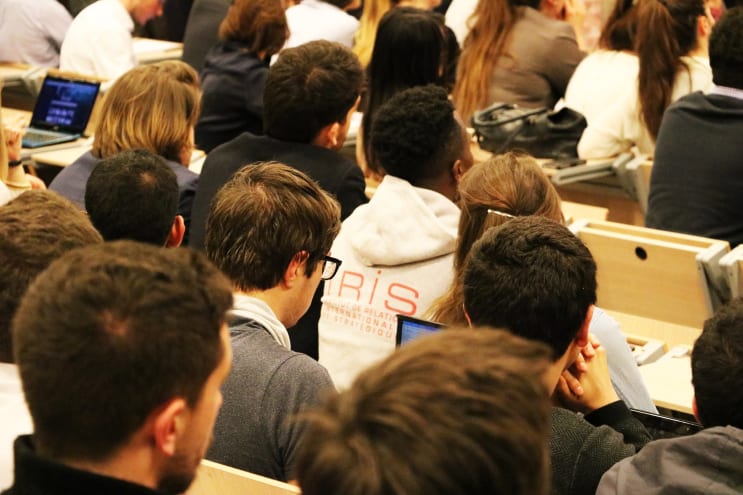 Monitoring and educational support
With 220 students in face-IRIS Sup 'remains a structure in which the anonymity has no place. Earlier this year, each student signs internal rules, which govern its relations with teachers and the teaching team.
The ongoing presence is required and the work must be made on time. The dialogue with the administration is constant: it raises a question of administrative or educational, each student will always find an interlocutor.
Students IRIS Sup 'have a work room where the headlines of the French and international press are available to them, as well as 200 journals on CAIRN. Several computers with office suite, Internet and WiFi access are free.
Open training courses on the professional world
A favorable organization in cooperative education / practice. Internships or jobs 3 days a week, in parallel courses from October to May and full time from June to December.
Contact with professionals. All stakeholders engaged in businesses, associations, international organizations or the senior civil service. During their mix and theoretical contributions, practical applications and lived in daily functions in an international environment.
The association with the activities of IRIS. Alongside their course, students IRIS Sup 'can attend conferences and collaborate in activities of the IRIS.
The alumni network. Created in 2008, the Alumni Association of the IRIS aims to bring together a network which today has more than 1500 graduates!
An internship office. Responsible internships publishes announcements offered to students as it gets for personalized advice. Students IRIS Sup 'are now valued in hundreds of private and public organizations.
Academic and professional partnerships
IRIS / Grenoble Ecole de Management.
Geopolitics becomes an almost indispensable skill of the manager. GEM students have the opportunity to spend their final year of the Grande Ecole Programme in the IRIS Sup programs: in RI 2 or Géoéconomie and strategic intelligence. Those IRIS also follow the strategic management of a teaching professor of Grenoble Ecole de Management and enjoy the GEM online resources. Students validating all of the curriculum also get a common certificate IRIS / GEM.
IRIS / IEE of Paris 8.
Students enrolled in IRIS Sup 'in International Relations 1 and 2 and Géoéconomie may conditionally enroll at the Institute for European Studies (IES) of Paris 8 to prepare in parallel the course "European Union and globalization" Master mention "European and international Studies". A follow-up to the IEE will articulate the curriculum for both teams.
IRIS / IPAG / UBO.
A partnership between IPAG University of Western Brittany and IRIS allows graduates training "Manager of International Programs," "International Relations 2nd year", "Humanitarian Action: strategic issues and project management," "Defense , security and crisis management "who wish to benefit from the VES device (validation of higher education). The validation of IRIS will result in the allocation of ECTS credits to obtain one of the courses of the Master AMEO specialty Administration and Public Management issued by the UBO.
IRIS / ADIT.
European strategic intelligence leader, ADIT is collaborating in the development of program and strategic intelligence Géoéconomie IRIS, on its areas of expertise.
IRIS / Crisotech.
Crisotech organizes simulation exercises and training Business Games IRIS.
IRIS / ACF, MDM, PUI, Solidarités, MakeSense.
Students from humanitarian Manager working on projects proposed by NGOs since 2014.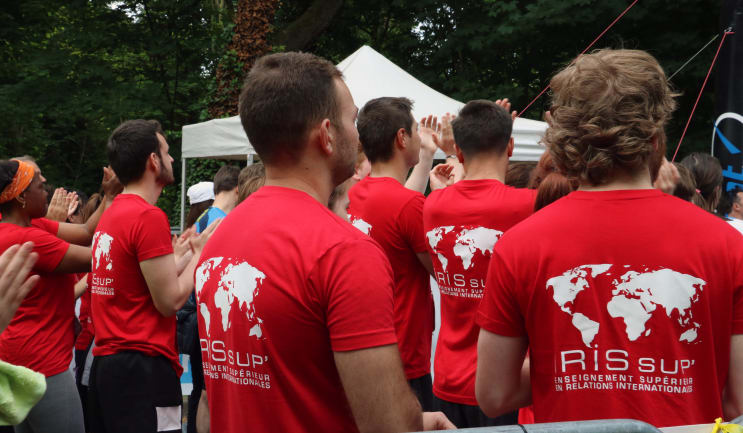 Choosing your degree
IRIS Sup 'offers geopolitical formations applied leading to two titles of level 1 recognized by the State: International Strategy Analyst (ASI) and humanitarian Manager (CBM). Accessible with a bac + 3, the courses last two years. Holders of a bac + 4 can apply directly in 2nd year.
Grade 1 IRIS Sup '(bac + 4)
The private degree from fundamental studies in International Relations (IR 1) sanctions the 1st year IRIS Sup. A must for bac + 3 without professional experience, this year may also allow students with a higher scientific degree of a solid foundation on the political, economic and diplomatic, before choosing an area of ​​specialization in the second year.
The course 2nd year (bac + 5)
International Strategy Analyst [UPS]
3 courses to develop your analytical skills, action and decision support in international environments: * International Relations, Strategic Intelligence & Géoéconomie, defense, security and crisis management. referred Functions: Charge (s) of study, and sleep; Chargé (e) development; Responsible missions ; Chargé (e) prospective studies; Economic analyst / international understanding; Strategy Advisor; Responsible for international relations; Head of Economic Studies; Business Intelligence Manager; Risk manager ...
Humanitarian Manager [MH]
2 courses to develop your analytical capabilities context of intervention on the ground and project management: Responsible for international programs; Humanitarian Action: strategic issues and project management. Functions covered: Humanitarian Manager; Project Manager ; Coordinator / trice field / programs / projects; Chargé (e) / project manager / task; Coordinator / trice developing device.
The commonalities in all training
The selection (eligibility on file maintenance on admission), the pace of studies (see page 22), the mix Geopolitics and professional practice, professional speakers in their fields, are common features. training validation modalities adapted to each course, are close: continuous assessment (attendance, presentations, lecture notes, exercises, simulations, etc.) exams (February and late May); realization of a memory and oral; internship report (September). Courses lead by private diplomas basic or higher education. Partnerships allow validation of masters 2 in parallel.
Locations
Paris
IRIS SUP'
Address
2 bis rue Mercoeur
75011
Paris
,
Île-de-France
,
France