As the Graduate School of Management at the Université Grenoble Alpes (UGA), Grenoble IAE's mission is to train and develop both specialized managers and dual-competence managers. To fulfill its mission, IAE draws from hands-on practical expertise and world-class management researchers.
Grenoble IAE develops talent:
At undergraduate (3rd year) and graduate (M1 & M2) levels;
In full-time study programs, in work+study programs, and in executive education programs;
In Marketing, Management, Finance, Information System Management, Innovation Management, and Technology.
Innovation and progress in management practices at the heart of IAE's vision
Grenoble IAE's approach is based on continuous applied research, coupled with a relentless desire to network with the business world. The abundant energy of its researchers in management sciences, the strong partnerships it maintains with engineering schools, the practical initiatives it sponsors in support of entrepreneurship, and (let's not forget) the highly qualified graduates it produces year after year—all of these factors contribute to enhanced innovation for all players in the ecosystem. Whether from a financial perspective, or from the point of view of economics, societal well-being, and innovation, Grenoble IAE has already had a significant impact on its ecosystem by spreading international recognition. At the heart of a world-renowned ecosystem, IAE's vision is to be a leader in innovation and a standard-bearer of progress in management practices.
60 years of success
Located where scientific research intersects business innovation, Grenoble IAE holds a unique position within the network of business schools in France. From this privileged position, the school has built its reputation on its degree programs, including the Master in Management of Strategic Purchasing (DESMA), the Master of Quantitative Marketing (le Quanti), and the Master in Finance, Accounting, and Auditing (CCA).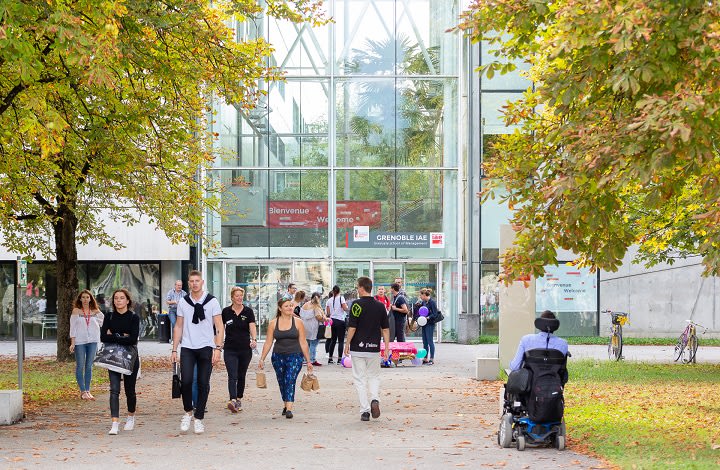 Why choose Grenoble IAE?
Choose to study at Grenoble IAE and you'll take advantage of all of the features of a quality management school, including comfortable facilities, personalized support, and professional networking. At the same time, you will have access to the many services of a large public university on an exceptional campus. You get the best of both worlds!
A practical pedagogical approach in line with businesses
Grenoble IAE aligns its programs with the needs of businesses, placing special emphasis on applied learning. Thanks to its business connections, its large pool of affiliated professors, and its alumni network, IAE maintains ongoing relations with leading businesses through research groups, improvement committees, university-business chairs, industry workshops (for example, on negotiation, entrepreneurship, or purchasing), internship forums, and conferences: there's stimulating activity all year long at Grenoble IAE!
A personalized approach to the study
With employability at the core of its mission, Grenoble IAE offers personalized professional support. Advising and orienting students to maximize a student's potential is one of the major preoccupations of the school's pedagogical team. Thanks to its multi-disciplinary approach and to its connection with the professional world, Grenoble IAE combines a range of competencies, encouraging entrepreneurship and innovation.
A strong international focus
Grenoble IAE has a longstanding tradition of cooperation with business schools around the world; notably in Brazil, China, Indonesia, and Russia. Every year, more than 500 students from 70 different countries are enrolled at Grenoble IAE. In addition, Grenoble IAE students can take advantage of one of the many international exchange programs to spend a semester or a year studying or completing an internship outside of France. Or choose to become more internationally focused right here in Grenoble by enrolling in one of the five M2 programs offered wholly in English.
A welcoming environment and fantastic facilities
Grenoble IAE welcomes you with modern and fully equipped buildings, both in Grenoble and in Valence. Exceptional on-campus student life, in a preserved natural environment, allows students to practice a variety of sports—and in some cases, even at a world-class level. There are a number of student clubs at IAE to liven and enrich daily student life. These include AIESEC, Junior Enterprise, and clubs promoting humanitarian projects.
The IAE brand - An important network!
Grenoble IAE belongs to the network IAE FRANCE, University Schools of Management. This network of 35 school includes more than 30 bachelor, master, and Ph.D. programs in Management and unites 49,500 students. IAE France is an important network of professionals and a sign of quality.
Key figures
60 nationalities
350 professionals contributing to the teaching staff
110 international partners
800 graduates per year; more than 23,000 since 1956
2000 students
250 internships and sandwich courses per year
1700 company contacts
92% employment rate within 8 months of graduation
Locations
Saint-Martin-d'Hères
Address
Avenue Centrale,525
38040
Saint-Martin-d'Hères
,
Auvergne-Rhône-Alpes
,
France
Valence
Address
51 rue Barthélémy de Laffemas
26901
Valence
,
Auvergne-Rhône-Alpes
,
France