About us - Trajectory
Structuralia is a specialized engineering, infrastructure, energy, building and new technology graduate education school with the strong conviction that continuous quality training is vital for the professional development of engineers and architects.
Structuralia was founded in 2001, and since then, has established partnerships and signed agreements with prestigious universities, thanks to which, more than 115.000 students (mostly engineers) have had access to high-quality training with high-level and internationally recognized experts in their own disciplines. In addition, over 35.000 engineers, from 100 different companies, have access to high education programs every year through our lifelong learning service (Pharos).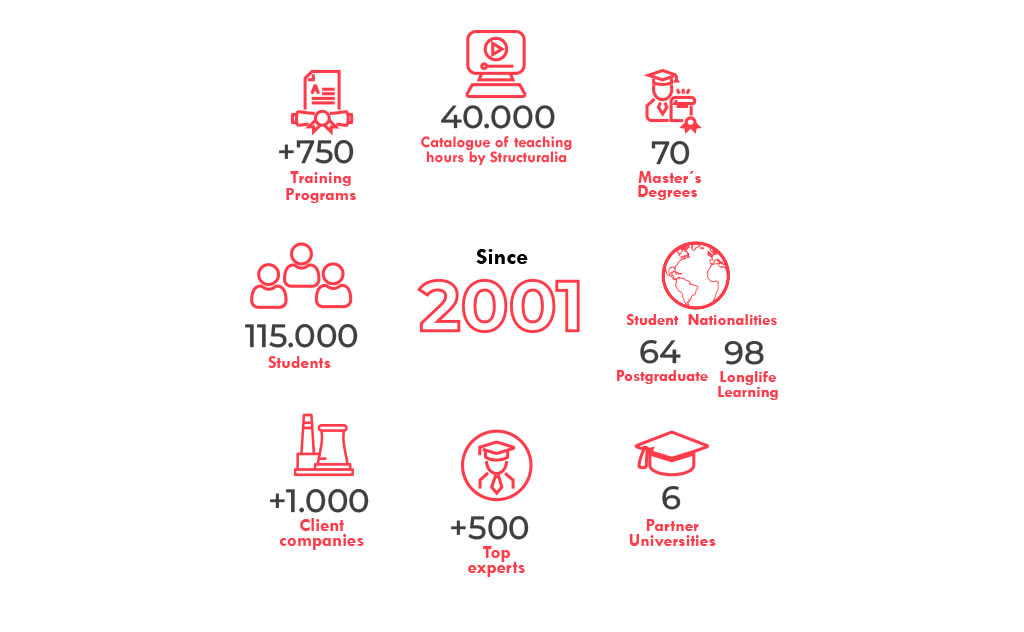 More about Structuralia
We are passionate about knowledge and its dissemination.
We are driven by personal development.
Our aim is to offer the best service to Engineering and Architecture professionals. And it shows….
DOCUMENTARY ON ROMAN ENGINEERING. CO-PRODUCED BY RTVE
More than 40 awards in international festivals, and more than 2,5 million viewers
AWARDS TO PROFESSIONAL EXCELLENCE
European gold medal 2016
Gold star to academic merit 2018
AWARDS "EL SUPLEMENTO" (THE SUPLEMENT)
Training Category 2020
2018 AWARDS TO ACADEMIC EXCELLENCE
Based on the appraisal from 15.000 users about quality, professors, academic model, etc.
Master's Degree
Higher education
We offer highly specialized graduate education programs (Spanish /English), constantly updated by our experts, and focused on current business needs
Cutting-edge areas
Architecture, building and urban planning and development
Industry, energy and environment
Civil engineering and transport
Financing and management
Smart infrastructures
Digital transformation and industry 4.0
Applications, software and methodologies
Data Science and Security