MA in
M.A. in Global, International & Comparative History
Georgetown University - Graduate School of Arts & Sciences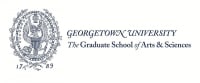 Scholarships
Explore scholarship opportunities to help fund your studies
Introduction
The Master's Program in History at Georgetown is rooted in the core belief that interconnections among the globe's diverse regions and cultures have played a crucial role in shaping societies' development since long before the modern era, and that a deep understanding of these historical forces is essential to grasping the world we currently live in. History as a discipline aims to analyze and integrate politics and states, production and work, environment and society, culture and religion, and gender and family. Georgetown History MA students research these aspects of human society as they change over time, by setting local, regional, and national developments in transregional or global contexts.
Georgetown's History Department reflects the University's global orientation. Over half of the department's 40 members specialize in areas outside the United States and Western Europe. The faculty has strengths in both early modern (c.1500 to 1800) and modern history (c. 1750 to present). Their collective expertise spans the Americas and the Atlantic World, Africa, Western Europe, Russia and Eastern Europe, the Arab and Islamic Worlds, and East Asia and the Pacific World. The department includes some of the country's most prominent historians working on global environmental history, international diplomacy, gender, labor history, social movements, nationalism, imperialism, immigration, borderlands, material culture, science and medicine, and military history.
Georgetown's MA in Global, International, and Comparative History (MAGIC) offers students the opportunity to develop a historical perspective on our interconnected world and provides multiple avenues for students to engage with the issues and insights that arise from an international historical perspective. The program provides a foundation for professional participation in the world of global affairs as well as strong preparation for doctoral studies. Students both delve deeply into the history of a particular world region and situate that same region within a broader context through the study of transnational, comparative, and thematic trends. The program offers students rigorous training in historical methods, foreign languages, and analytical and writing skills. Graduates have gone on to careers in fields such as government service, NGO work, and global business, as well as top-ranked doctoral programs in History and related disciplines.
The MAGIC program is small and selective. MA students work closely with faculty mentors and participate in classes with Ph.D. students. They enjoy access to classes in a variety of disciplines across the university, a rich campus intellectual life, and the vast archival, cultural, and career resources of the wider Washington, D.C. area. MA students at Georgetown are also invited to participate in the Georgetown Institute for Global History's research seminars and workshops. These are periodically convened sessions in which scholars from around the country present their current research in the form of pre-circulated papers.
Course of Study
The MAGIC curriculum is designed to build strength in comparative history while allowing students the flexibility to explore their specific regional and thematic interests. Students, in consultation with the program director, design a curriculum that simultaneously provides broad exposure to global historical perspectives and depth in a particular regional or thematic history.
COURSE BREAKDOWN
All students must complete the core colloquium HIST 505, Introduction to Global History in their first year. Students must also complete a two-semester research seminar, resulting in an original, primary source-based research paper. This sequence normally consists of HIST 504, Global History Research Seminar, taken in the spring of the first year, and HIST 506, Graduate Writing Seminar, taken in the spring of the second year.
In the 2-semester research seminar, students prepare a substantial analytical paper integrating the historical literature with original research in the relevant foreign language(s). Students who identify an appropriate two-semester research seminar in their chosen geographical field may petition to enroll in that sequence in lieu of HIST 504 and/or HIST 506, with the approval of the Director of MA Programs and the faculty member teaching the regional research seminar.
The remaining seven courses are usually distributed as follows:
Field I - Global and Comparative History (3-4 courses) emphasizes transregional and comparative studies, offering students the opportunity to explore common themes across different geographic regions.
Field II – Regional and National History (3-4 courses) allows students to gain deep knowledge of a particular part of the globe.
By petition, a student may focus Field I on one world region, Field II on another region, and emphasize relations between the two (e.g., Europe and the Americas); or develop an explicitly comparative perspective, such as, for example, politics, gender, and culture in the Middle East and Latin America.
LANGUAGE REQUIREMENTS
All students must demonstrate proficiency in at least one language other than English by passing the History department-administered examination before beginning their third full semester in the program. At the beginning of their studies, all students will take a reading examination in a language other than English to determine their level of proficiency. Students who do not pass the examination on entrance will be required to take courses or other appropriate steps to bring their language skills up to department standards. Students who have conferred a high school diploma or an undergraduate degree at an institution in which English is not the primary language of instruction can petition for native proficiency. While the language requirement is not a prerequisite for admission to the MAGIC program, prospective students are strongly encouraged to have language study prior to matriculating in the program. For additional information on the language exam, please consult the MA Handbook.
English Language Requirements
Certify your English proficiency with the Duolingo English Test! The DET is a convenient, fast, and affordable online English test accepted by over 4,000 universities (like this one) around the world.