MA in
M.A. in Art & Museum Studies
Georgetown University - Graduate School of Arts & Sciences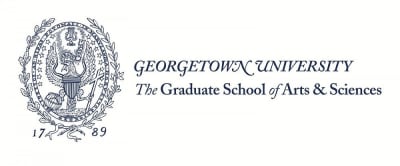 Key Information
---
Tuition fees
USD 2,139 / per credit *
Application deadline
Request info
Earliest start date
Request info
* cost per credit for academic year 2019-2020.
Scholarships
Explore scholarship opportunities to help fund your studies
Introduction
Georgetown University's M.A. degree program in Art and Museum Studies brings the academic study of art museums together with museum practice and emphasizes the international contexts of museums in the modern world. Through courses, individual research, and internships, students work closely with Georgetown art history faculty, curators, and other museum professionals in Washington DC, and with faculty specialists at Sotheby's Institute of Art in London or New York.
The twelve-month course of study combines courses in museology and art history with internships at some of Washington's premier art institutions. We examine the changing relationships between the academic study of art and new configurations of museum display and interpretation. Such topics as the roles of museums in modern cultures, museum education programs and audiences, new technologies, collection management, curatorial work and the ethics of acquisition and display are discussed in classes and individual research projects. Our students take part in critical debates about art exhibition and interpretation.
Travel Funds: The Art and Museum Studies program is able to provide partial funding, by application, to help cover travel and conference fees for a student who presents at an academic or professional conference. For more information, contact [email protected].
Kelley Family Scholarship: This year, the Art and Museum Studies program is delighted to offer the Kelley Family Scholarship to provide partial tuition support to two students during the 2017-18 academic year. Students who wish to be considered for this academic, merit-based award should indicate their interest by ticking the box on the first page of their application form.
Learning Goals
The AMUS curriculum is designed to combine classroom study with internships that function as entry-level staff positions in a museum or gallery; at each stage, students actively synthesize the various experiences of learning. The goals and outcomes listed here summarize basic expectations at each stage.
Goals:
In seminars at Georgetown, students conduct research using a range of specialized art history literature and direct examination of works of art in area museums. They may do some work collaboratively, and they present their research in class reports and formal art history papers. In practicum courses (Museum Practice, Museum Education, Curatorial Practice), students relate readings in the discipline, site visits, and classroom discussion to specific professional projects and tasks, such as developing exhibition proposals and budgets. Much of the work is collaborative and some may be related to their internship experiences.
For internships in the fall and summer semesters, students work with museum supervisors and the program director or other faculty members to fulfill assignments at the host institution and at the same time produce a tangible project and a journal that includes reflective synthesis. Each student works closely with museum staff members and often with interns from other programs and is encouraged to start developing professional networks.
The semester at Sotheby's Institute of Art requires students to select a program of study such as Decorative Arts and Design or Art and Business, which includes units taught by a number of faculty specialists. The Institute's coursework emphasizes connoisseurship and hands-on study of artworks, and incorporates study trips to public and private collections, auction houses, and art fairs.
Learning Outcomes:
Seminar research papers and class presentations demonstrate a fairly broad and sophisticated understanding of the discipline of art history, its methods of research, and relationships to other disciplines. The report sessions introduce students to the sharing of research at scholarly meetings and the roles of both independent and collaborative work. The practicum courses usually have several smaller projects rather than a major research paper, but they have similar results in terms of balancing individual and collaborative work. The most important outcome is gaining experience and confidence in handling typical tasks associated with museum work.
Internships provide both experiences of work in a museum or gallery setting and documentation of achievement in a variety of tasks, in the form of such tangible products as gallery information sheets, an educational plan for a specific visitor group, materials related to marketing and development projects, and through the supervisors' evaluations. The required internship journals will become important resources as the graduate enters the field.
The experience of studying at Sotheby's Institute of Art in London or New York gives students opportunities to engage directly with research on art objects, current trends in the field, and with issues related to the business side of the art and museum world. The distinctive UK educational system also encourages students to step back and look at the field from a new perspective; students' journals include reflections on the process of learning as well as the subjects of their studies. The atmosphere at Sotheby's is rather competitive, and therefore the semester acts as an introduction to the professional world in a way that the fall semester does not. Students finish the program well prepared to take on demanding summer internships and to apply for jobs or Ph.D. level programs.
Courses
The Art and Museum Studies core course and electives are designed to stimulate discussion and to provide a first-hand experience of museum specializations. Students may emphasize the academic study of art and museums or an area of professional museum work such as education or curatorship, but all members of the program will have some experience in both kinds of study. Most courses meet frequently at area museums. The sample courses listed here are for general information only; seminar topics vary from year to year.
Georgetown Courses
Museum Studies Foundations.
Museum Practice Workshop.
Museum Education and Interpretation.
Curatorial Practice.
Early American Material Culture.
Ideas of Realism.
Modern Art in Asia.
Russian Avant-Garde Art.
Washington Art Collections.
Sotheby's Institute of Art Courses
Art and Business.
Asian Art and its Markets.
Decorative Art and Design.
Contemporary Art.
English Language Requirements
Certify your English proficiency with the Duolingo English Test! The DET is a convenient, fast, and affordable online English test accepted by over 4,000 universities (like this one) around the world.