Master in Transport and Logistics
Home ›
MSc ›
Master in Transport and Logistics
Program Description

General information
Awarded academic degree: Master of Social Sciences in Transport and Logistics
Accreditation: until 31 December 2023
Complete study programme volume: 82 credit points (123 ECTS) / 62 credit points* (93 ECTS)
Possible forms of education and study languages:
Full-time – 2 years / 1.5 years* (English). Courses available during day or evenings
Part-time – 2.5 years / 2 years* (Latvian). Courses available during Saturdays or by Module schedule (approximately 1 time per month, Friday 16:00-21:30, Saturday 8:45-17:00, Sunday 10:30-15:30 (English))
* If the applicant during previous studies has had professional internship of at least 20 CP (30 ECTS)
Enrolment requirements: higher education: Bachelor of Social Sciences in Management Science or Economics, or higher professional education of the second level in Logistics, Transport, Management Science and Economics (if applicants have degree in another field it is necessery to pass entry examination)
About the Programme
The MSc in Logistics and Transport aims to prepare students for leading management positions within: the logistics functions of manufacturers and distributors of all kinds; transport companies and other logistics service providers and; public organizations involved in the regulation and planning of transport and logistics within regional, national and international contexts.
The programme provides an intellectually challenging learning environment with wide-ranging content that spans both theory and practice. Lecturers on the programme are not only active researchers, but are also involved in business–related consultancy and government work. Students on the programme have different educational backgrounds, nationalities, and work experience, all of which serve to enrich the learning environment and prepare students for a successful international career.
As a student of programme, you will analyse real-world and theoretical problems, developing skills to design solutions for organizations operating under uncertainty and facing complex and rapidly changing markets and technologies. You will gain a strategic perspective of the relationships, flows, chains, processes, and systems comprising the international logistics and transport arena, with sustainability as a key issue.
With your transport and logistics systems expertise, you will have a wide choice of challenging career opportunities. Our alumni are working as: transport system analytics, employed by a city or as consultants; a logistics manager with a production company, controlling the entire logistics chain; a technology company that is developing traffic and transport systems, where your knowledge will be very useful. Students will also be well prepared for a research career.
Tuition Fee
Full time Part time
Duration
2 years
2,5 years
EU residents EUR/year
1980 EUR *
1640 EUR *
Non-EU residents EUR/year
3200 EUR
2600 EUR
* If the tuition fee of semester is divided into monthly payments (5 payments), the amount of the tuition fee increases by 100 euro per semester.
** If the annual tuition fee is divided into semester payments (2 payments), the tuition fee is increased by 100 euros per year.
Alumni testimonials
Curriculum with the latest industry trends; the excellent training materials; the emphasis on career-oriented skill development had landed me in one of the global fortune 500 companies in the country Jiju Jayapal, SAP Logistics Business & Integration Associate, Accenture Latvia
The master's programme compares with high practical significance and relevance, after graduating from which, I can say with confidence that I am keeping up with the times or even slightly ahead of it Uljan Evteev, Lead Analyst, Marketing Directorate PJSC «RPC United Wagon Company», Russia
Last updated May 2020
About the School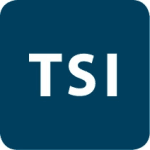 TSI – is the only one private technical college university type in Latvia where you can get higher education in Latvian and English. TSI is a modern dynamic technical university of applied sciences, p ... Read More
TSI – is the only one private technical college university type in Latvia where you can get higher education in Latvian and English. TSI is a modern dynamic technical university of applied sciences, providing high quality education with focus on applied research. TSI creates a vibrant educational environment with highly valued lectures from all around the world. TSI is a community of passionate, carrying and dedicated individuals who provide individual approach to students with purpose of creating long-lasting relationships.
Read less