MA in Design Practices: Pathway - Visual Communication
Home ›
MA ›
MA in Design Practices: Pathway - Visual Communication
Program Description

Young graduates of applied art, commercial art, graphic design and visual communication design often feel the need to step out of the daily demands of the profession to engage in new learning, to experiment and enhance their creative capabilities and to sharpen their thinking and making skills so as to transform their abilities and become proficient practitioners. The specialization in Visual Communication will enable such a graduate to integrate existing models of thinking and making with emerging technologies and methods in the field of visual communication. The course will equip young graduates with agile professional abilities, become meaningfully resourceful, artistically inclined and process-oriented in the field of visual communication.
Study of the nature of visual information processing and comprehension forms the basis of this course. Students intersect their learning with six key domains of visual communication design: aesthetic, functional, historical, symbolic, perceptual, and cultural. The discipline of Visual Communication focuses on providing core competency in developing visual literacy, visual thinking, visual perception, imaging, and representation. Design processes, research methods, history and theories of design form the building blocks for developing comprehensive and successful branding strategies and creative communication material.
The curriculum approaches visual communication through theoretical frameworks that not only inform and enhance the practice but also encourage the students to question the norms and scale traditional boundaries. The course will provide a platform to use design thinking to break rules, to express unique ideas, to question norms, and, to explore and experiment with the tools and methods of visual communication. Students will thus experience design both as a complex societal, corporate activity and an intense, exploratory, personal search into meaning.
Key Values of this curriculum are:
Build on the foundation and understanding of design as a discipline.
Explore Gestalt Principles of Art & Design and intersect these with local aesthetics
Provide a strong understanding of the history of art & design, thereby creating a context within which the profession is situated
Learn to decode, understand and create meaning through a variety of visual forms
Ways of analyzing meaning and communication using research, analysis, and critical thinking.
Who is it for?
Graduates of Art & Design related Disciplines:
The specialization is designed for graduates of applied art, commercial art, mass communication, architecture, animation, fine art, printmaking, photography and other visual art-related disciplines. This course provides an ideal opportunity also for design professionals who wish to breathe new energy into their creative career without giving up their jobs and assignments.
Graduates of Non-Art & Design Disciplines:
The specialization is also for those who do not have any undergraduate studies in the related disciplines but are passionately imaginative, are drawn to visual arts and dream of pursuing a creative career in visual communication design.
Working Professionals:
Applicants to this specialization could also be working professionals who have completed 3 years of undergraduate studies in any discipline and who wish to acquire knowledge base & skill-sets in Visual Communication through intellectual and creative engagement with the design process, design theories and reflective practice. This course will also enable a graduate of any discipline who is currently employed in the creative sector, to enhance her/his design practice in visual communication with added capabilities that fosters excellence in creative and professional competence.

Modes of Learning offered by the specialization in Visual Communication course
Course Structure/Components
Learning opportunities in the specialization in Visual Communication course are embedded in the following structures:
Tutorials and Studios: The tutorials comprise of face-to-face or online master classes, seminars, and workshops. Tutorials are faculty-led learning spaces where students develop core disciplinary skills and knowledge. Tutorials are designed to encourage students to collaboratively and creatively design solutions for complex, layered and contextual briefs. Face-to-face classes will deliver core-learning units offered in classrooms at Srishti campus for two days every week. Each Tutorial will last for 4 hours and will be scheduled on Fridays and Saturdays. This will ensure that a working professional misses only one day's work each week. Tutorials lead to Studios, where students work on assignments and projects that are either individual or group activities that foster making, experimenting, and learning by doing. Studios will not be mentored by faculty and on an average, students will be required to dedicate between 20 to 30 hours of studio work every week
Critiques: These will be faculty-led sessions, discussions, and forums to encourage presentation of creative works, conversations, thinking and sense-making. Critique sessions may be face-to-face as well as online through blogs, discussion board conversations, and webinars.
Practice: This includes experiential, embodied and physical engagement as a working professional, or self-study and reflective documentation (for example, documenting ideas and projects through sketches and notes, and, maintaining reflective blogs).
Webinars: Forums for receiving feedback on projects undertaken and for presenting and defending a written paper and dissertation in response to a given situation, context or proposition.
Electives: Engagement outside the workspace that allows for extension and building connections. This can include visits to exhibitions, places, talks, walks, participation in workshops and studios. It also includes the option to take another unit or course in a parallel course of professional practice (such as in heritage preservation, films, design thinking etc.).
Portfolio: Development of a reflective and curated body of work that represents professional practice over a time period.
Dissertation as Personal Mastery: Practice-based research/design project and its documentation, dissertation and viva voce in the final semester.

Learning Approach
Discussion-based learning, learning by making, and project-based learning are some of the pedagogical tools employed to create insights into real-life situations and industry needs. The learning approach will encompass hands-on design thinking, design research, deep understanding of principles of cognition and perception, and creative thinking, in combination with contextual thinking. The course prepares the students to participate and function in the areas of creativity and visual communication across print and digital media by training and exposing them to various skills such as but not limited to Design Thinking & Processes, Collaborative projects, Leadership Skills, Social Concerns, and Technical & Written Communication and Presentation.
Learning is driven by engagement with theories, methodologies and advanced skills of Design Thinking, Critical Thinking, Research and Analysis, Reflection, and, Documentation & Presentation through three overarching modules:
• Unpack Meaning
Ways of analyzing meaning and communication using research, analysis, and critical thinking
Theoretical study of Semiotics, Denotation, Connotation and Visual Symbolism
Study of historical milestones, and its influences on ways of communication, Visual Culture, and Visual Literacy
• Construct Meaning
Visual Narratives, Image Making, interaction of Type and Image to make meaning
Constructing and shaping meaning using Symbols, Icons, Pictograms, Motifs and Patterns
Constructing and shaping meaning in communications for advertising and marketing
Font Design, Data Visualization, Story Telling, Conceptual representation
• Interplay Meaning
Explore varied media for visual expression
Transformation of forms and meanings
Examining Critical and Essential Influences
Capability Sets
UPON SUCCESSFUL COMPLETION OF THIS COURSE GRADUATES WILL HAVE DEVELOPED THE FOLLOWING CAPABILITIES:
Creatively agile visual communicator who pays attention to detail and whose work demonstrates formal and visual integrity.
A reflective practitioner who follows ethical standards and professionalism in communication, commitment, methods, and outputs.
Works collaboratively without losing personal voice.
Risk taker and adventurous in exploring new forms and meanings.
Work responds to users' needs within environmental, cultural, economic and historical contexts.
Articulate in Visual Language using form, shape, color, composition, typography and develop attention to detail
A versatile visual communicator whose work spans printed and electronic media with knowledge and understanding of each medium.
Engage in research with an inquiring mind, and methodical analysis to identify needs, generate insights and propose solutions
Opportunities
Graduates of MA in Visual Communication at Srishti will be able to contribute to and make a positive difference in a variety of creative service industries such as of Branding & Advertising, Marketing & Communication, Graphic Design, Publication & Publishing, Retail, and Exhibition. Our graduates will be highly effective to work as Art Directors, Senior Designers, and Design Consultants.
Inquiries
This course is led by Kumkum Nadig, Dean & Senior Faculty, School of Design, Business & Technology, at Srishti.
For further information, kindly email: kumkum@srishti.ac.in
Last updated Jan 2019
About the School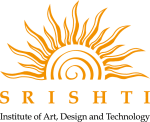 Srishti Institute of Art, Design, and Technology is a non-residential institution founded in 1996 by the Ujwal Trust with the objective of providing art and design education in an environment of creat ... Read More
Srishti Institute of Art, Design, and Technology is a non-residential institution founded in 1996 by the Ujwal Trust with the objective of providing art and design education in an environment of creativity to maximize the individual's potential.The Ujwal Trust also manages Srishti's sister institution, the prestigious Mallya Aditi International School.
Read less