Read more about this program on the school's website
Program Description
The Master of Arts in International Relations is designed to give you the knowledge and skills you need to critically analyze and assess global affairs.
Our faculty is diverse, comprised of accomplished scholars who are widely-published and respected in the field. It includes policy experts who bring their real-world experience as executives, consultants, and advisors with international organizations (such as the United Nations, the International Committee of the Red Cross, the World Bank, Organization of Petroleum Exporting Countries (OPEC), and the International Court of Justice to the classroom. Their relationships in both the academic and diplomatic worlds open doors to distinctive learning experiences, practice, and internships for our students.
With international relations graduate courses offering face-to-face and online learning, you can customize your degree to fit your schedule. The program also extends to eight of Webster's international campus locations, meaning you can study abroad for a term or more and gain in-depth exposure to different cultures and sociopolitical environments. Ultimately, you'll graduate with the tools you need to put your knowledge to use as a working professional and as a global citizen.
Learning Outcomes
Students who complete this program will be able to:
Demonstrate a working knowledge of several sub-fields of the discipline.
Demonstrate strong research skills.
Critically analyze international events and issues.
Apply theories of international relations to international affairs.
Demonstrate effective written and oral communication skills.
Develop the requisite skills to seek employment relevant to the field by having the necessary education.
Program Curriculum
The Master of Arts in International Relations enables students to analyze the complexities and processes involved in global politics and international affairs. Program coursework provides exposure to the key subfields of the discipline and relevant issues such as globalization, human rights, humanitarian action, and economic development.
Core Courses
INTL 5000 Introduction to International Relations (3 hours)
INTL 5100 Research Methods and Perspectives (3 hours)
INTL 6000 Capstone in International Relations (3 hours)
Or
INTL 6250 Thesis (6 hours) and INTL 6900 University

Thesis Requirement (0 hours)

Two courses from the Comparative Politics Cluster (6 hours)
Four courses from the International Politics Cluster (12 hours)
Three elective courses (9 hours)
Comparative Politics
INTL 5050 Comparative Politics (3 hours)
INTL 5580 Politics of Development (3 hours)
INTL 5570 Comparative Foreign Policy (3 hours)
INTL 5600 Area Studies (3 hours)
INTL 5605 Topics in Comparative Politics (3 hours)
INTL 5625 Middle East Area Studies (3 hours)
INTL 5635 Western European Area Studies (3 hours)
INTL 5645 Asian Area Studies (3 hours)
INTL 5655 African Area Studies (3 hours)
INTL 5665 South and Central Asian Area Studies (3 hours)
INTL 5675 Central and Eastern European Area Studies (3 hours)
INTL 5685 Latin American Area Studies (3 hours)
International Politics
INTL 5400 International Political Economy (3 hours)
INTL 5510 Theories of International Relations (3 hours)
INTL 5530 International Law (3 hours)
INTL 5540 International Organizations (3 hours)
INTL 5550 War and Diplomacy (3 hours)
INTL 5560 US Foreign Policy (3 hours)
INTL 5590 International Security (3 hours)
INTL 5700 Humanitarian Issues in International Politics (3 hours)
INTL 5800 Globalization (3 hours)
INTL 5860 Issues in International Politics (3 hours)
INTL 5870 International Law and Politics of Outer Space (3 hours)
INTL 5890 Terrorism in World Politics (3 hours)
International Relations elective courses
Any additional courses from the two clusters above, any pre-approved non-INTL elective course related to international relations, or any of the following:
INTL 5300 Field Work (3-6 hours)
INTL 5500 Professional Seminars (1-3 hours)
INTL 5610 Non-Thesis Readings/Research (3 hours)
INTL 5900 Advanced Research Methods (3 hours)
INTL 6500 Internship (3-6 hours)
Program Outcomes
Our campus provides access to many global and non-governmental organizations. Our students frequently obtain internships/jobs at these institutions or specialized agencies, including the Organization for the Prohibition of Chemical Weapons (OPCW), International Criminal Court (ICC), NATO Communications and Information Agency (NCI) and International Criminal Tribunal for the former Yugoslavia (ICTY).
Other graduates pursue careers in politics, international business, national foreign services, or become aid workers. Webster's IR graduates are regularly admitted to prestigious postgraduate programs in Europe and the USA. Most importantly, graduates leave with a network of lifelong friends and colleagues from around the world, an essential component of success.
Average intelligence analyst salary in The Netherlands: €43,448
Admission Requirements
At Webster University we look for high potential individuals with a global mindset, who are not only motivated to succeed academically but also to thrive in society. We are proud to welcome students from different countries and backgrounds with the belief that embracing such diversity can only contribute to their overall development and enhance their experiences both inside and outside of the classroom. The Board of Admissions reviews every application carefully to decide who will be offered a placement.
Graduate Applicants
Application Form: The process begins with the submission of your online application form and payment of the application fee. The application fee can be paid by credit card. Applicants are required to upload a number of supplemental items to support their application. These are listed below.
Supplemental items: After receiving your application form you will be able to upload the following remaining documents into your application:
Copy of a recent CV or Resume
Letter of motivation (one page) stating why you want to pursue the program and how it ties into your current career or future professional goals
Two letters of recommendation
Certified copies of your transcripts
TOEFL 550/80 or IETLS 6.5 scores or Password English Test (6.5)
Financial documents
Why Webster Leiden?
Webster Leiden Campus was founded in 1983 and since then we have had over 2,000 students from over 50 countries graduate. We are the only institute for Higher Education offering American-accredited degrees in the Netherlands with five schools and colleges include Arts & Sciences, Business & Technology, Communications, Education and Fine Arts.
Our mission is bold and appropriate for these times: Webster University, a worldwide institution, ensuring high-quality learning experiences that transform students for global citizenship and individual excellence.
Top Reasons to Study at Webster Leiden Campus
If you are planning to study an American degree abroad here are our top reasons why you should choose Webster Leiden Campus as your study destination.
Study in the heart of Europe

Located in the heart of the Netherlands, our Leiden campus neighbors The Hague and Amsterdam, home to many organizations and businesses with a diverse and international workforce and clientele. Our strategic location and global reach attract a network of world-class faculty, often coming straight from the same international businesses and organizations, who provide our students with a unique learning experience where deep academic knowledge is combined with professional expertise.
American education in Europe

Webster Leiden is the only university that facilitates the ability to get an American education and accreditation in The Netherlands.
Flexible Degree Structure

Webster's flexible degree structure promotes academic depth and intellectual breadth, encouraging you to explore diverse interests. Approximately half of your courses will be focused on your major area of study. Your remaining courses can be allocated to a second major, emphasis, minor, or certificate.
© Webster Leiden Campus - Webster University USA
It's affordable

In comparison to other European destinations like the United Kingdom, the Netherlands is an affordable place to earn a degree. The cost of living is significantly lower in "university towns" like Leiden, especially in comparison to what you'll find in London or Paris. The NS, the country's national train company, also offers heavily discounted tickets for students via its OV-Chipkaart program. In addition to the many student discounts offered by restaurants, theaters, and other businesses, living without a car isn't just an option, it's practically a way of life. It's much easier to get around on a train or a bicycle.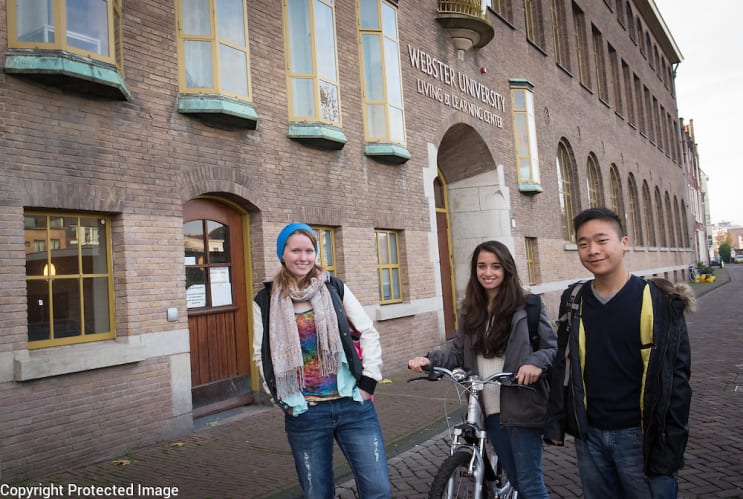 © Webster Leiden Campus - Webster University USA
Orientation year 'Zoekjaar' for graduates

Following graduation from Webster, a world of exciting opportunities will become available to you. The 'Orientation Year for Graduates Seeking Employment' is a residence permit aimed at retaining foreign talent for the Dutch labor market. You have up to three years after graduation to apply for this one-year residence permit.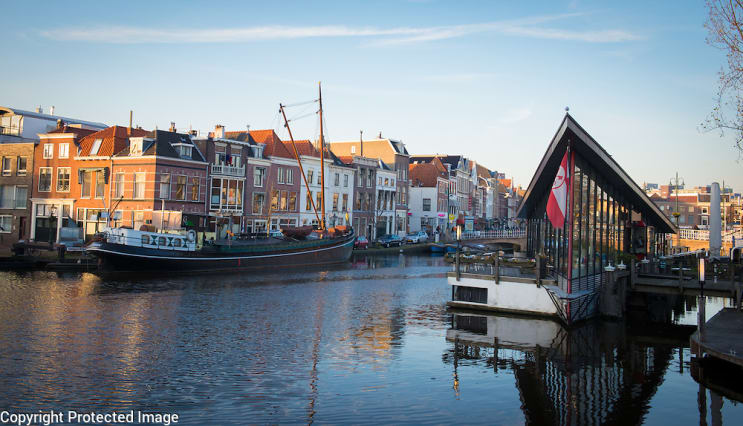 © Webster Leiden Campus - Webster University USA
Career Service

Webster University's Career Center aims to give students the opportunity to present the best of themselves when applying for internships or jobs. The Career Center's mission is to educate our students about the career development process and industry options, empowering them to make informed career decisions. Further, we aim to prepare our students for experiential learning (i.e. internships and community service), employment, and further education and to connect hiring organizations with our diverse student talent.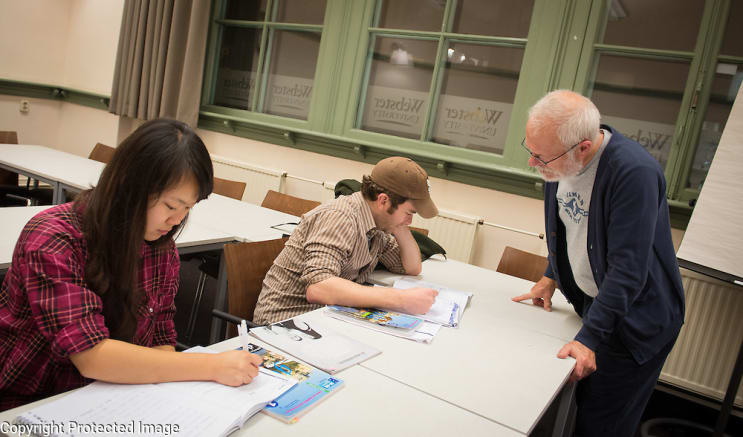 © Webster Leiden Campus - Webster University USA
Webster University's global recognition

Webster University continues to be ranked in the top tier of the Regional Universities-Midwest category of the 2020 U.S. News and World Report Best Colleges
Study Abroad programs ranked in the top 2 percent of the 1,500 colleges and universities surveyed in the "America's Best Colleges" 2019 edition of U.S. News & World Report
Forbes' "America's Top Colleges" 2018, and recognized among the best in the nation for study abroad programs
TheBestSchools.org recognized Webster for being among the best online master's program
Location
Webster University Leiden
Boommarkt 1, 2311 EA Leiden, Netherlands
Province: South Holland
Telephone: +31 71 516 8000
Email: WLinquiry@gus.global
Last updated Apr 2020
About the School
Founded at St. Louis, Missouri in 1915, Webster University is an accredited, non-profit American university with over 100 locations.
Founded at St. Louis, Missouri in 1915, Webster University is an accredited, non-profit American university with over 100 locations.
Read less